AyaNova Hosting
---
AyaNova is a powerful, affordable service management solution for virtually any kind of service, repair, or maintenance company. HaveAByte is the only hosted solution provider for AyaNova, offering a turn-key hosted AyaNova solution for a low monthly hosting fee.

---
Overview
AyaNova is the #1 service management, dispatch scheduling and many others.
The solution offers interfaces for Windows, web browsers, and Palm devices. AyaNova practically transforms any service business into a well-oiled machine overnight.
Features
Service workorders to maintain history and keep track of scheduled users
Quotes that easily convert to workorders so you don't miss anything
Preventive maintenance that automatically convert to workorders to save you time
Internal custom reporting so reports are exactly how YOU want them to be
Graphical scheduling which is easy to view
Full Inventory including requesting parts tied to a workorder so no mistake on what goes where
Notifications via internal pop-up, memo, external email or pagers – reminders to staff on important events
Contracts and banked service
Windows, web, and mobile interfaces
Attached documents ties additional data to clients, workorders, equipment
Localization & Custom Fields so the program meets YOUR exact needs
Search all data / Knowledgebase to easily bring up previous information
Log in security and feature-specific permissions
Import and Export other data into the AyaNova database
Scalable from a single user to a corporate enterprise
Grows easily as your business grows
Remote access so employees outside of the office can stay connected
Optional one-click invoicing to QuickBooks and PeachTree
Over 70 different industries served
Pricing that matches your business
Next Steps: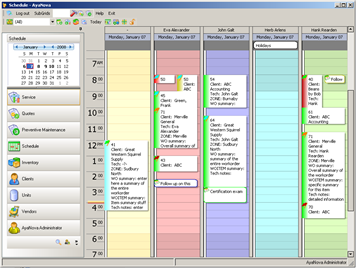 Windows, Web, and Responsive Mobile Device Access!
Click for a live demo!