Making it look easy.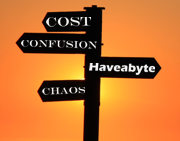 HaveAByte has provided businesses with end-to-end web-based solutions for over 10 years. We work hard to understand your business, match technology to your needs, and take care of it all for you.
Featured Product: Hosted AyaNova Software System

AyaNova is a full featured application featuring service management, dispatch, scheduling, workorders, preventive maintenance, searchable knowledgebase, equipment tracking, management reports, web and mobile interfaces, QuickBooks integration and much more. HaveAByte makes AyaNova easy.
Anywhere service is to be scheduled, tracked and dispatched, AyaNova can help you manage it! AyaNova is trusted by service professionals since 1996, and is managing service in over 61 countries and counting.
Get control of your work orders and STOP leaving money on the table!
As the only managed hosting provider of AyaNova, we offer a complete turn-key, secure, hosted, managed AyaNova solution tailored to your business. Integrated with your existing website but hosted here means a hassle free application.
Learn More!